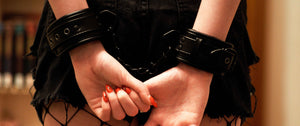 Created by a Passionate Couple
BDSM Shop
Welcome to John & Celia BDSM Store.
We are a libertine couple, in a D/s relationship for almost 7 years.
Passionate about the BDSM universe and all that it can bring sexually and spiritually, we realized that it was complicated to get quality BDSM accessories (necklaces, handcuffs, whips).
Different desires, different wishes, different tastes... But few choices. We became frustrated... You see where I'm going with this?
Our project today is to create a community, a family, an Empire!
Whether you are dominant, submissive, switch, exhibitionist or simply fetishist, by visiting our site you will find everything that will allow you to blossom in your sex life.
We know how much your personal development depends on it, your pleasure will always be our priority.
Lucas & Harper
Want to discover nipple torture?
We will tell you how to prepare your nipples ideally and how to practice breast torture without risks.
So, are you ready to go? Discover this exciting and vicious BDSM practice!
Discover our Nipple Clamps
BDSM ACCESSORIES FOR YOUR GREATEST PLEASURE
Sextoys and BDSM Accessories are looking for owner!
All our intimate toys and accessories are of impeccable quality and will bring you moments of incredible erotic pleasures!
Naughty games in couple or solitary pleasure, find the sextoy or the accessory of your choice.
Our fetish store has been advising you for more than 30 years. Don't hesitate to ask us for advice and let your imagination speak for your naughty SM games.
Discover your pleasure and new sensations.
Domination or submission, discover the BDSM accessories that will make you the perfect slave or master of your sexual partner.
All moves are allowed according to the contract that binds you and your limits, to make your erotic accomplice enjoy.
The important thing is to discover his body and his craziest desires. Vibrate to the rhythm of our vibrators, dildos, plugs, clitoral stimulators, and excite your partner with handcuffs, headbands and masks, candles, gags, swords, whips, bondage cords, breast clips, chastity cages, hoods...
If you wish to discover more in depth BDSM and bondage techniques, our guides and novels will make you an expert in sadomasochism. From foreplay to supreme orgasm, enter our BDSM store to spice up your libido and your libertine or couple sex life.